The day didn't start well as I'd picked up a bout of food poisoning the night before and arrived an hour late at Toft Newton as a result. Add to that the atrocious weather I'd driven through and I decided to stay in my car for half an hour to wait for the rain to subside. It was not a pleasent view :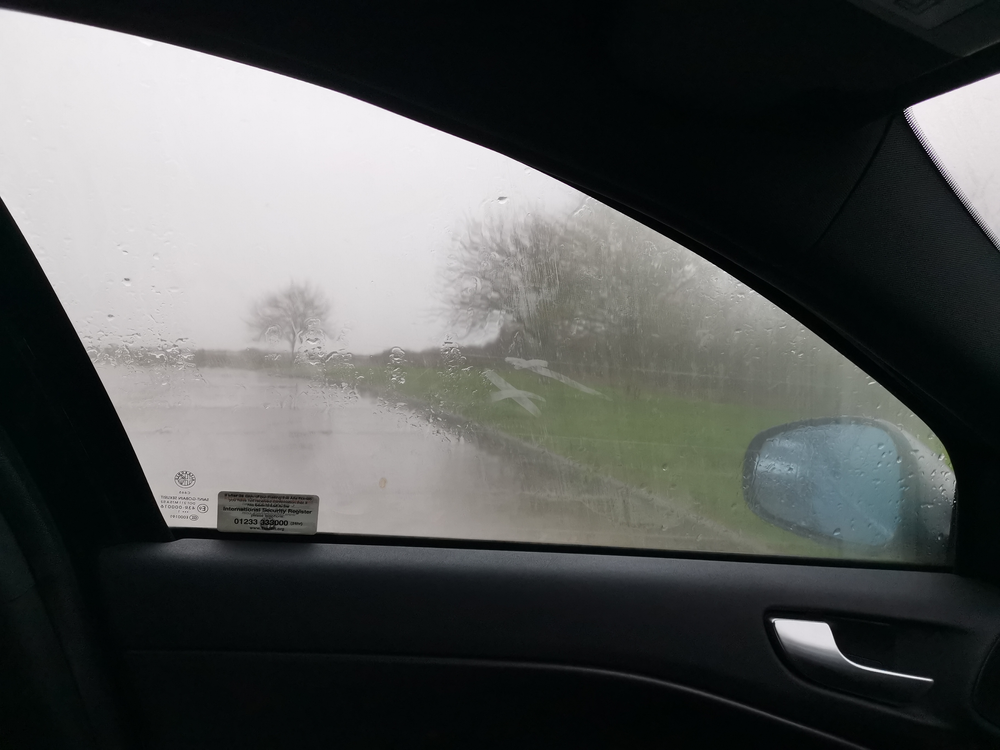 It didn't take long before the lure of fishing was too much and I tackled up in mild drizzle. Andy Hutson was manning the office and as ever, he offered a friendly welcome and excellent advice.
I'd come to Toft as Andy was offering a free tuition day and I know just how good a fisherman he is, so I was keen to talk to him. I particularly wanted to ask about two things I'd been trying to do all year, which was to catch a brown and to catch anything on an apps bloodworm.
Andy suggested a yellow apps for the stockies and a red apps for the grown on fish. These were to be fished on floating line with an 18ft leader. Alternatively, a slow intermediate line with a single white lure on the point of a 15ft leader would also work, possibly for the brownies.
I set out to the water and was pleased to see Matt Nuttall fishing the South bank. Matt had already caught a nice brown and was soon in to another rainbow as we chatted.
Matt was using a floating line with a booby snake on the point, an apps on the top dropper and a hare's ear on the middle dropper. Each fly was at least 6ft-8ft from the other. The set up was cast out, straighted with a sharp pull and fished completely static. Matt was keeping the flies static and avoiding a bow in the line, which would have moved the flies unnaturally, by walking down the bank, keeping up with the line. This method proved particularly effective as Matt was soon in to another fish.
Although fish were being caught, it was obvious from the movement on the surface that there were a lot of fish just out of casting range. To get to these fish, Matt and I decided to shared a boat and moored up around 70 yards off the bank in the same area.
There were a lot of fish movement around this area as fry chasers were hammering across the surface chasing hapless prey all around us.
We both started with the booby and apps method and once again, Matt was catching well. Although I wasn't doing as well as Matt, it was a great experience to watch and learn from a very accomplished angler indeed. Matt was very open with his advice and suggestions on how to improve my fishing and this proved invaluable as I was soon in to a real lump of a fish.
The fight was incredible and I played it for several minutes before we both saw a huge fish surface. Matt immediately leapt in to action and kindly netted it for me and a 10lb rainbow was on the boat. This is a personal best for me and I was absolutely delighted. It had taken an orange blob fished on a floating line with a slow figure of eight.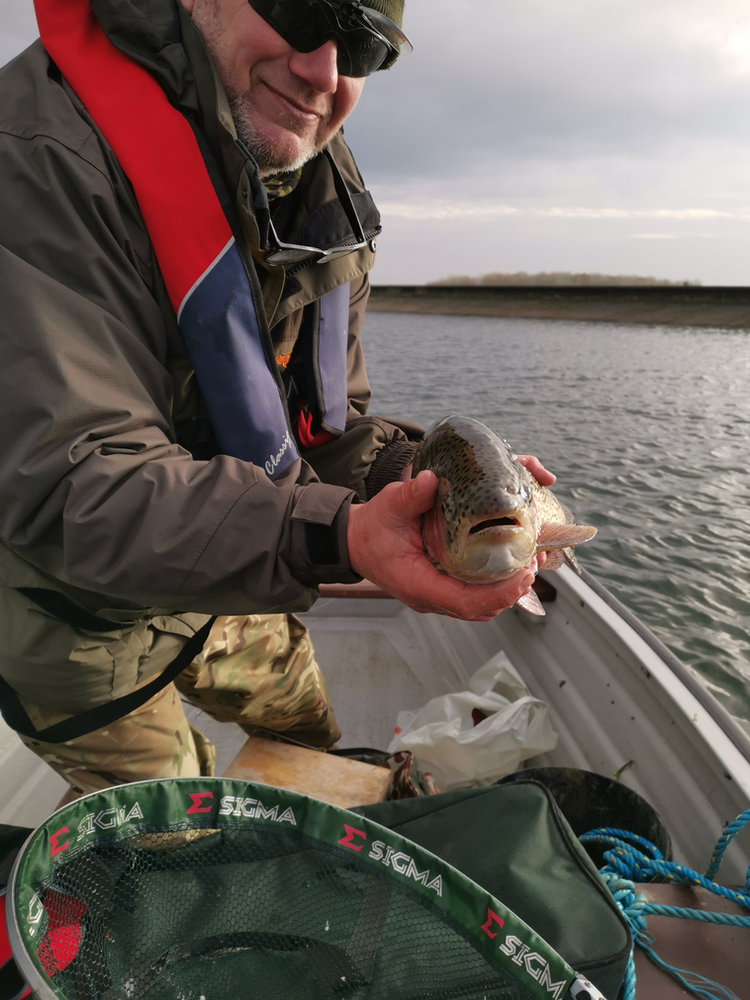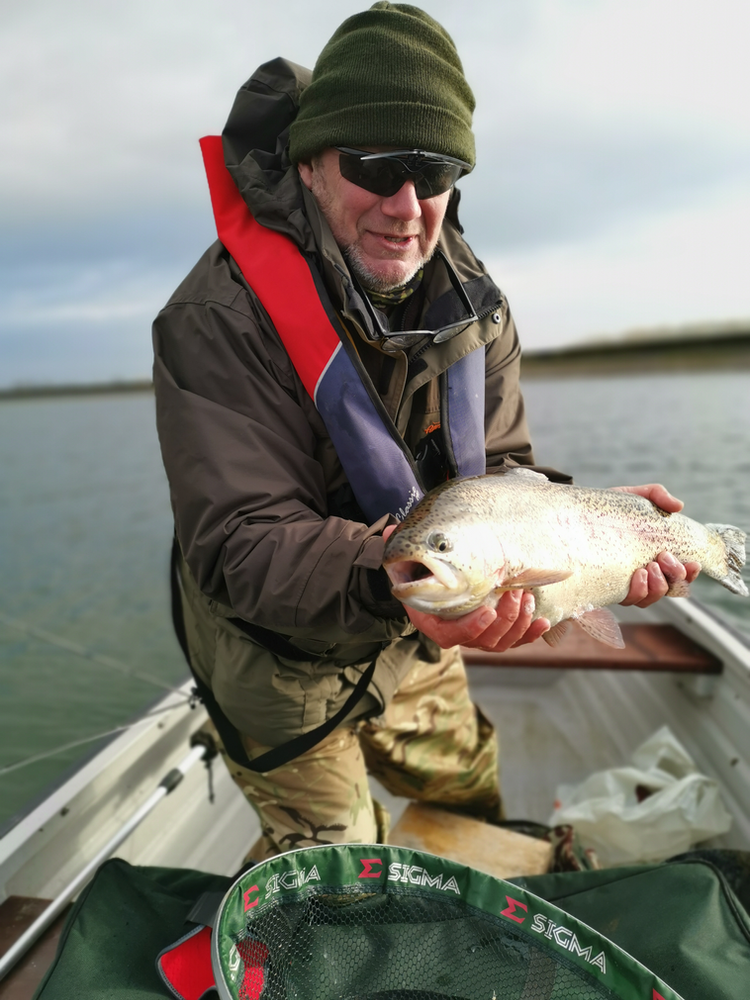 After missing another bite straight afterwards, I was in again on the orange blob with a brownie of all things. This was the icing on the cake for me after the lump I'd just caught.
Meanwhile, Matt had switched to a fast glass with a white snake and was catching fish on a very regular basis indeed. After 15 minutes without a pull, I changed to a DI5 with a white snake on the point and a red apps bloodworm on the top dropper and was soon in to another lump ! This one tipped the scales at 7lb and fought just as well as the earlier fish.
The best news for me was what it took though :
Finally ! I'd caught on an apps bloodworm. My day was complete, I'd caught a brown and caught on an apps. This was already a fantastic day, but it was not yet over…
It was Matt's turn to hook in to a big fish next and it was clearly fighting hard as his rod was bent over. However, it turned out not be a big fish, but two rainbows on a double hook up. This day was getting crazy !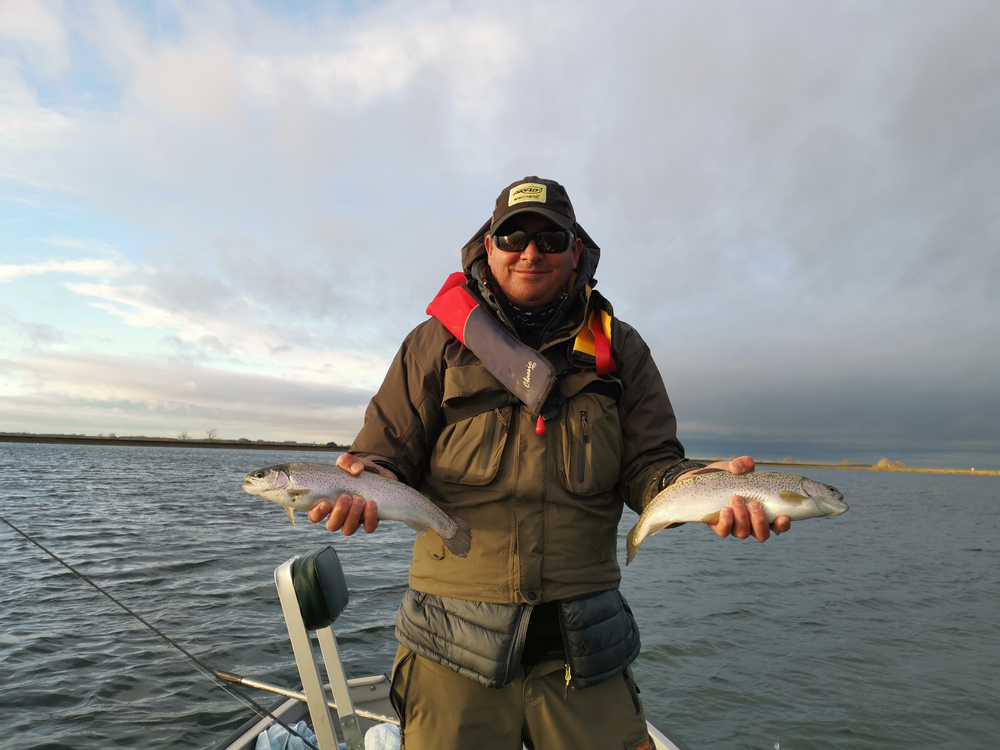 A few minutes later Matt was in again and this time it was a big one. Caught on the white snake on the fast glass with a very fast roly poly retrieve, Matt hooked in to a 6lb rainbow of his own.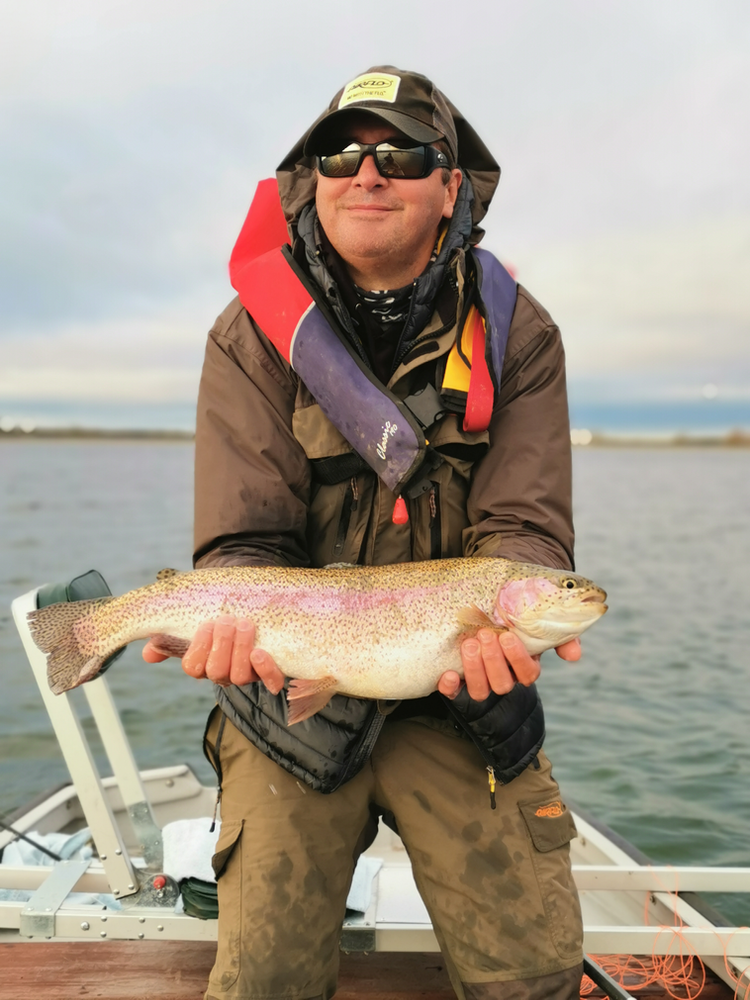 The action continued with us both catching more rainbows, until I managed another lump of 6lb, this time on a white snake.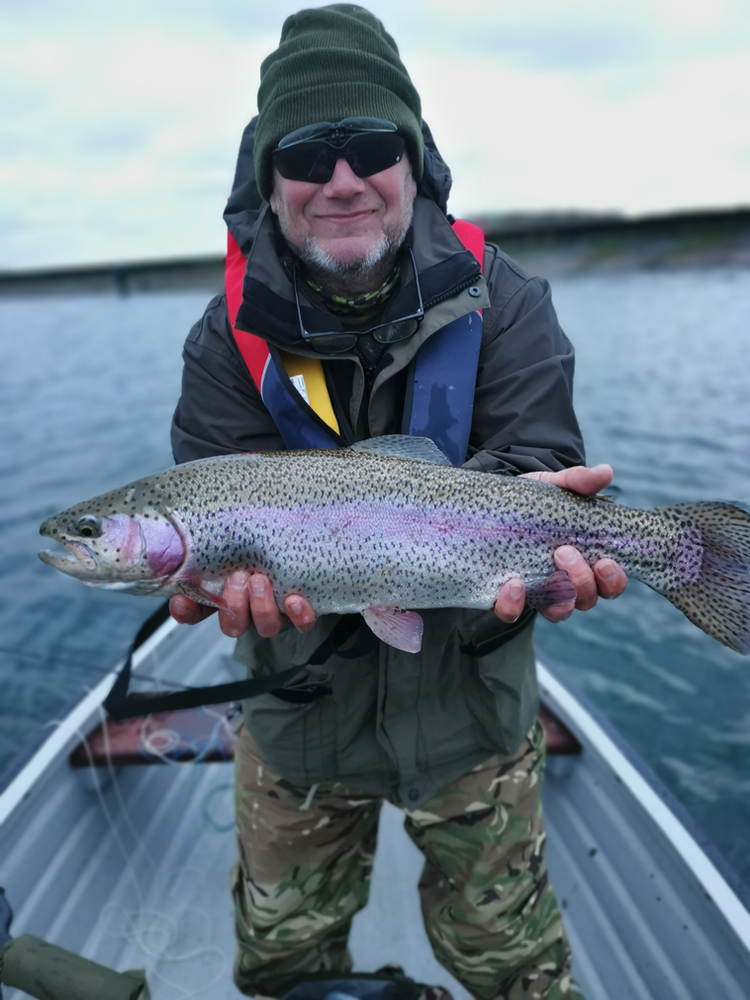 Andy came down for a fish on the bank opposite us and caught a 7lb fish on his first cast on a pink apps bloodworm. The fishing was simply unbelievable for all three of us.
An hour later and after lots of fish caught, lots of not safe for work banter and lots of great laughs, we called it a day as the last of the daylight sank away.
With 25 to the boat and 4 fish over 6lb, the day was simply fantastic. The levels of stocking and the stamp of fish in Toft make it a must visit venue at the moment. You get a warm welcome, good advice and great fishing, so what's not to like.
Our catch on the day, all of which was returned unharmed, bodes well for the Fur and Feather match at Toft on Sunday 6th December. There are still places available in that competition, so if you'd like to enter, check out the details here
Cheers all and tight lines !
White Snake : http://troutfliesdirect.com/product-page/white-humungous-snake-zonker
Hare's Ear : http://troutfliesdirect.com/product-page/hares-ear-wet
Orange Apps : http://troutfliesdirect.com/product-page/orange-apps-bloodworm
Yellow Apps : http://troutfliesdirect.com/product-page/yellow-apps-bloodworm
Orange Blob : http://troutfliesdirect.com/product-page/orange-blob