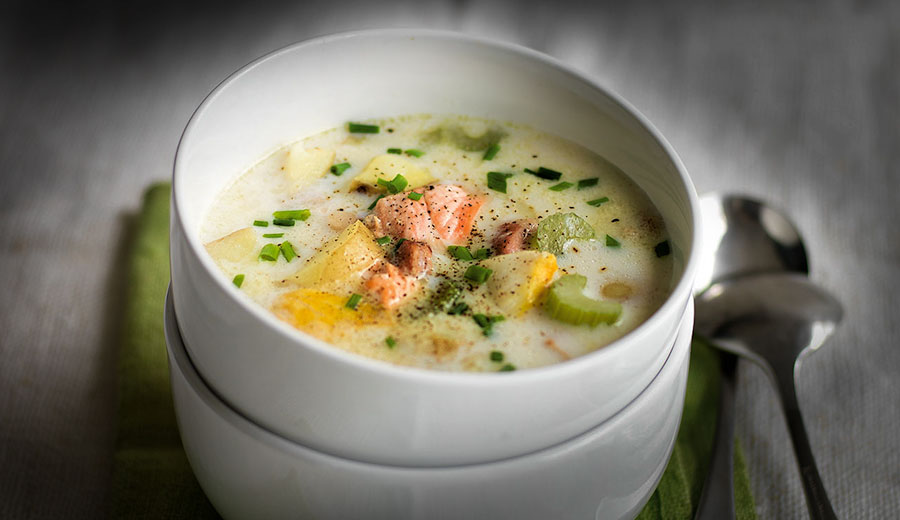 As the winter draws in, why not use some of your hard earned catch to cook a delicious warming meal.
This is a recipe for smoked trout chowder, which was intended as a starter, but is so rich and tasty, it's always a good idea to have it as a main course too.
Ingredients (4-6 main course portions)
• 2 tbsp butter or olive oil
• 2 medium carrots, chopped small
• 650g potatoes, cut into 1/2 inch cubes
• 1 med-large onion, chopped finely
• Garlic 3-6 cloves, crushed or fine sliced
• Squeeze of lemon juice
• Cornflour
• 1/2 cup dry white wine
• 2 vegetable stock cubes
• 1 litre milk
• 1 tsp herbes de Provence*
• 1/2 cup single cream
• 400g smoked trout fillet, chopped
• King prawns, scallops, mussels (optional)
• Can of sweetcorn without liquid
• Diced celery (optional)
• Saffron if available
• Seasoning
• Fresh dill chopped to garnish
Method
Melt butter in a large pot over medium heat. Add 2 or 3 twists of fresh ground black pepper. Fry off onions for a few mins add garlic, but do not brown.
Add carrots, potato, wine, stock cubes, squeeze of lemon, milk, 3-4 strands of Saffron and good pinch herbes de Provence.
Bring to a boil, then reduce heat to medium-low. Simmer, very gently so as not to curdle the milk, until potatoes are tender but not mushy! (about 10 min). Try not stir too often as this breaks up the veg.
To thicken the chowder scoop out about 1/3 cup of soup without chunks and sprinkle in approx. 1 tablespoon of flour, mixing thoroughly with the flat of a spoon to make a thickish paste. Stir this in near the end of the boiling stage above.
Stir in cream and trout (plus other seafood), pinch of Saffron and sweetcorn.
Continue simmering on very low heat until the seafood is all opaque.
Season to taste, but the trout will already be salty, so don't overdo it!
Add a sprinkle of paprika and chopped dill and serve with warm crusty bread.
Delicious and very filling!
*Note: If you don't have herbe de Provence, use the following as an alternative:
2 teaspoons dried thyme
2 teaspoons dried savory
1 teaspoon dried marjoram
1 teaspoon dried lavender
½ teaspoon dried rosemary
½ teaspoon fennel seeds
1 crushed bay leaf