Although Foremark is only half an hours drive away from me, for some reason I've not fished it for 10 years or so. I'm not sure why, but I guess it doesn't get much attention compared to the better known waters like Rutland and Draycote. I'm a member of the Derbyshire County Angling Club and this enables me to fish Foremark ten times per season completely free, so I decided to return to give it a go.
This was also an opportunity to try out some of the flies from our new range we're about to launch (more on this soon!). Foremark is a barbless only water and this was perfect, as our new selection is entirely barbless.
I'd heard rumours of big catches on buzzers recently with a good head of resident fish, including good sized brownies, so my intention was to try that method.
Arriving at the site, I was greeted by a a helpful chap in the office called Alistair, who explained everything about the water, where I should try and what tactics to use, etc. He mentioned that the recent heavy rains had pushed the water level up and that the fish generally head for deeper water in that scenario. This wasn't great news, given that I was bank fishing, so I decided to start with lures.
Looking out from the car park, the boat pontoon juts out straight in from of you and unusually, fishermen are allowed to fish from the pontoon. Unfortunately, there was already two anglers on there and Covid restrictions of only 2 angler on the pontoon meant that I couldn't join them.
Instead I set up on the bank to the right of the pontoon and began to cast out on a floating line with a Gold & Black Humungous on the point and a Sweetcorn FAB on the top dropper of a fifteen foot long leader.
Gold & Black Humungous
That area of the bank is relatively shallow and as such, I waded out in my wellingtons to just below half way up them. This was the point where I realised that my boots leak….
Giving up on a bad job, I looked around and noticed fish moving to the left of the pontoon. I moved my gear down and continued with the same set up. Despite fish topping around me, there was no interest in the flies, so I presumed that they were a little further down. I switched to a DI 3 and used the same flies again.
I immediately had a pull and missed it, but cast out again and hooked a good fighting fit 3 1/2lb rainbow on the Gold and Black Humungous. Three or four casts later, and I was in to another rainbow on the FAB hitting the net at just over 4lb.
By this time, one angler had left the pontoon and gone home and the other had joined me on the bank. I could see that the fish were moving a little further out now, so I switched to on to the pontoon. I was correctly stopped from doing this by Alistair, who insisted I wear a life jacket on the pontoons and he supplied one straight away. Great safety awareness and great service.
A young man called Geraint had also moved to the pontoon and was soon in to a very good fish, but despite playing it for a good while, it sadly worked it's way free of the barbless hook right at the net. The fish were clearly here for the taking.
However, with the wind rapidly changing direction and strength, it became difficult to ascertain the correct method and the fish turned off for a good while.
I eventually opted for a DI3 with two boobies, a McKaye Booby on the dropper and a White Fritz Cat Booby on the point. There was no interest in the boobies being moved fast, so I tried an ultra slow retrieve and was suddenly in to something very special indeed.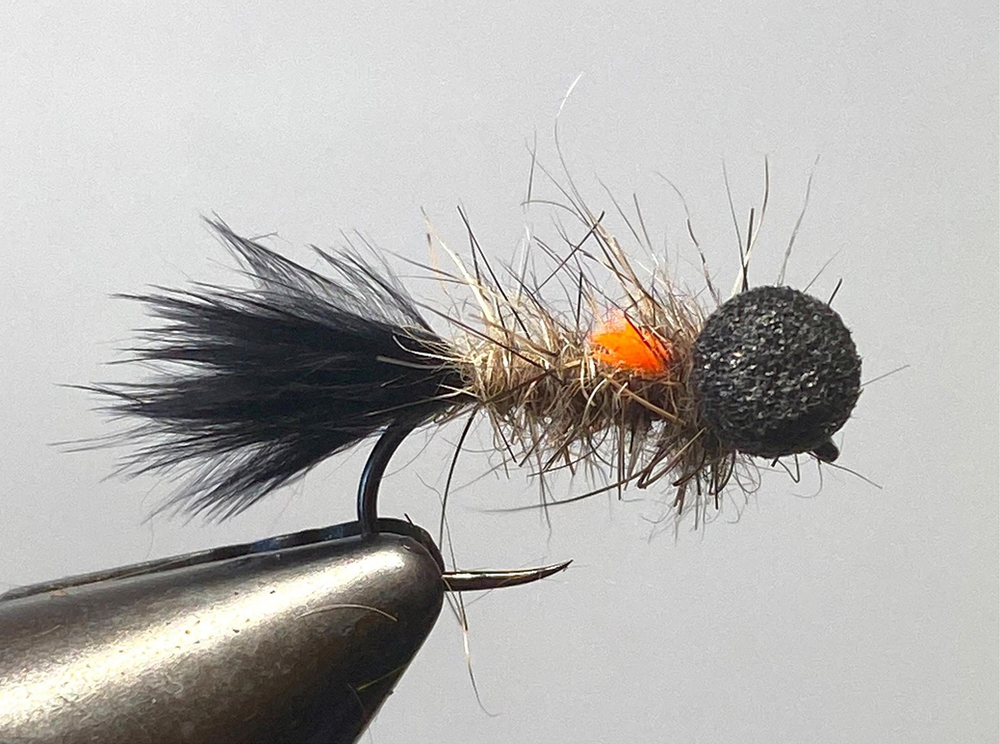 McKaye Booby
I was trying out a Guideline Reach 7/8wt 11ft Switch fly Rod and it was bent double as soon as I hit this fish. It immediately dived for the bottom, so I assumed it was a big brown, but after a good fight, a cracking 6lb rainbow hit the surface.
Alistair and Geraint had seen the action and came over to watch and Geraint helpfully netted it for me. It was an absolutely cracking fish and I was delighted to catch it on the Fritz Cat Booby.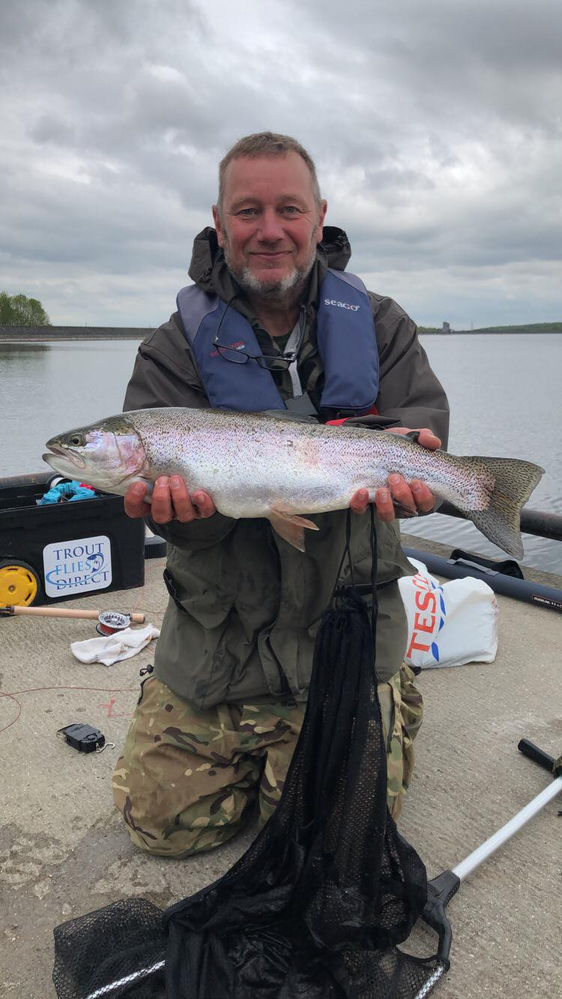 The wind eventually dropped and the trout started topping more freely and I switched to a Black Booby Hopper on the point with a Black Standard Thoraxed Buzzer on the dropper. It took two casts to get a take on the buzzer, but as is often the case, the trout chose the exact moment to take as I was pouring a coffee and I missed it.
Geraint was now getting takes, some of which were on the Gold & Black Humungous I'd given him, so things were going well for everyone.
I packed up soon afterwards leaving Geraint on the pontoon still fishing, I hope he caught after I'd left.
The fishing was great from a quality, if not quantity, point of view and I was very happy with the session and the performance of the new flies. I'm looking forward to putting the entire collection on the site very soon.
I'd like to end by saying that the whole experience at Foremark as greatly enhanced by the friendly and knowledgeable presence of Alistair. He runs the place with his Dad and clearly has a real passion for the sport. I would urge anyone to visit Foremark for a friendly, helpful welcome in beautiful surroundings with some quality fishing.